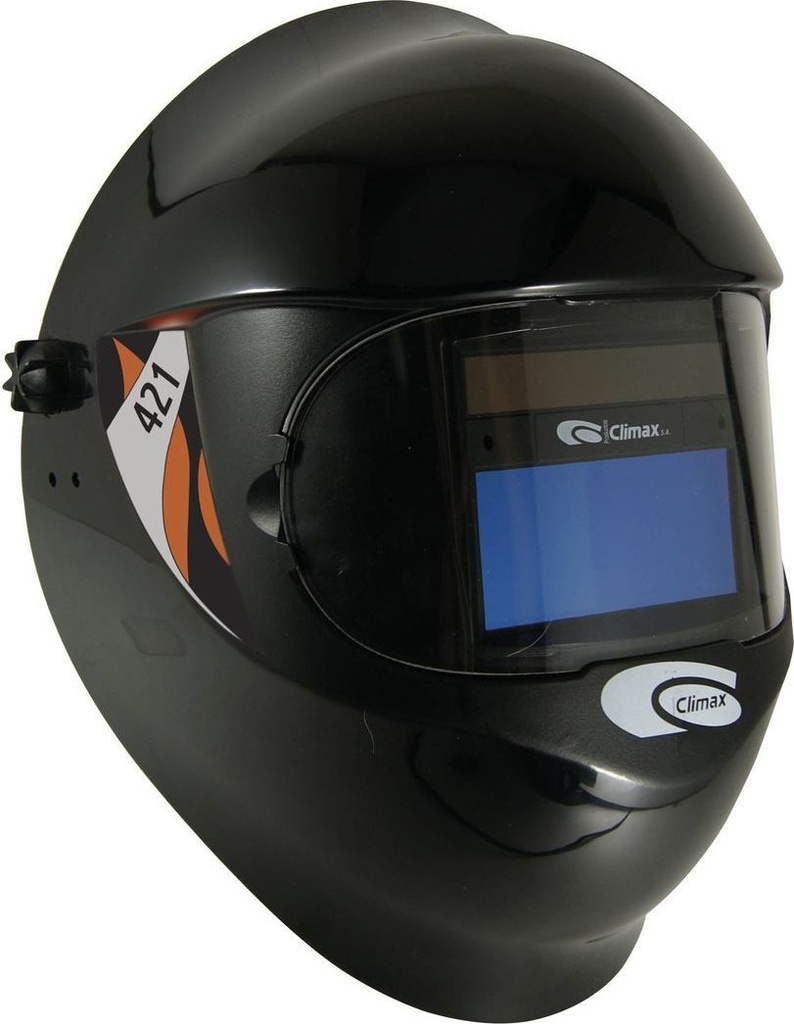 421 Autodarkering Welding Helmet with Grinding/Welding switch
The welding helmet mod. 421 can be used for all types of welding processes as of 5A (MIG / MAG electrodes, TIG / WIG, plasma-jet cutting and welding) except por laser and gas welding. It is specially recommended for TIG welding as it is equipped with a special detector for this kind of welding.

The fastener system consists of a headgear with two straps (contour strap and cross strap). The circumference of the contour strap can be adjusted comfortably by turning the wing nut at the rear of the contour strap and the length of the cross strap can also be adjusted to seven different positions. The contour strap has two cushions that prevent discomfort at the points where the strap touces the wearer's head.

Item: Polyamide welding mask 421
Material: poliamid
Shell size: 325 x 235 mm
Weight: 528 g
4 light detectors
Adjustable shade from 9 to 13
Automatic adjustment of the filter from clear shade 4 to selected shade (9 to 13)
Field of vision: 100x45 mm
Solar cell response time of 0,4ms
Adjustable clearing time from 0,1 to 1,0ms
Comfortable head gear with ratchet
Compatible with prescription glasses, respiratory masks
Power supplied by solar cell and battery
Standard: EN175 , EN379
Barcode: 8423246240399
Unite of measure: pcs
Packaging / minimum order quantity: 1
Full box quantity: 17
---

Productos Climax is one of the main PPE manufacturers with 100% Made in Spain. The experience and the "know-how" acquired since Productos Climax was born in 1984, have permitted us to offer a product adapted to our customers needs in one hand , and to face the constant complexities of national and international markets. Under the slogan "we work for your safety".
---
EN 166 Eye Protection
Protection of the eye from mechanical hazards likely to damage the eye and quality of optical lens, also include Optional protection from Chemical (liquids and dust), Electrical Arc, Thermal (Molten metal splashes and hot solids projections) risks. Lens treatments (Optional): K (AS): Resistance to surface damage by fine particles (anti-scratch treatment), N (AF): Resistance to fogging of oculars (anti-fog treatment)
Details
EN 175 Welding Eyes and Face Protectors
Specifications for the safety requirements for eye and face protection equipment used to protect the operator's eyes and face against harmful optical radiation and other specific risks or hazards in usual welding, cutting or similar operations.
Details
EN 379 Automatic Welding Filters
Automatic welding filters which switch their luminous transmittance to a lower predetermined value when an arc is ignited.
Details
---
---
Share this product:
This is a preview of the recently viewed products by the user.
Once the user has seen at least one product this snippet will be visible.
Recently viewed Products