15368EN MIGHTYLITE, 1 x 8 Model - EN 131 - 150 kg Rated, Fiberglass Stepladder with GROUND CUE
Everyone needs an ultra-functional stepladder. If you are looking for a lightweight, comfortable-to-use stepladder that helps you safely reach those high places, the MightyLite™ is the right ladder for the job.

FEATURES
TOOL TRAY TOP CAP
The innovative top cap features hooks, port holes, slots and grooves to keep your materials within reach while atop the ladder.

XL STANDING PLATFORM
As you climb your MightyLite, you will notice that the 3" rungs are extra-wide with treads to prevent slipping and foot fatigue. Upon reaching the top of the ladder, you can stand on the 165 square inch standing platform. This platform reduces dangerous falls and is comfortable to stand on for extended periods while working

GROUND CUE®
Don't be one of the many individuals who are injured while missing the bottom rung of the ladder. When you step on the bottom rung, Ground Cue® audibly clicks, alerting you that you have safely reached the ground.

AIRCRAFT-GRADE FIBBERGLASS
The MightyLite is a lightweight fiberglass stepladder that weighs 15% less than traditional fiberglass stepladders. The lightweight ladder reduces injuries associated from carrying heavy equipment. Plus, with its Hi-Viz green color, you will be able to avoid having people or objects bump into your ladder while it is in use.

The MightyLite meets or exceeds all OSHA and ANSI standards. The 4', 5', 6' and 8' models are ANSI 1A rated to hold 300 lbs. The MightyLite is also available in ANSI 1AA rating to hold 375 lbs. on our 4', 5', 6' and 8' models.

SPECIFICATIONS
Product Category: Mightylite
Extension Lock: None
Country Assembled: China
Marketing Language: Europe
Duty Rating: EN 131 - 150 kg
Feet: Standard non-marring (riveted)
Hinge Lock: None
Material: Fiberglass
Load Capacity: (150 kg) 330 lbs.
Spreader System: Platform
Ladder Type: Step Ladder
Warranty: 1-Year
Size: 8' 2.44 m
Storage Height: 8 ft. 2 in. 2.49 m
Storage Width At Base: 2 ft. 61 cm
Storage Depth: 4 in. 10 cm
Platform Size: 1 ft. 1 in. X 1 ft. 1 in. 33 cm X 33 cm
Product Weight: 24 lbs. 10.88 kg

STEP LADDER
Stepladder Size: 8' 2.44 m
Highest Standing Level Max: 5 ft. 8 in. 1.73 m
Highest Standing Level Min: 5 ft. 8 in. 1.73 m
Maximum Footprint: 4 ft. 11 in. 1.50 m
Minimum Footprint: 4 ft. 11 in. 1.50 m
Max Reach: 12 ft. 2 in. 3.71 m
---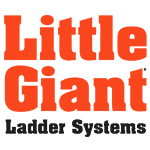 THE FUTURE IS BRIGHT The increased awareness and prioritization of ladder safety is making Little Giant the go-to company for safe climbing solutions. As we continue our research, engineering and developing the best designs and materials, you will see a robust variety of new products and training, and we can't wait to share that with you!
---
---
Share this product:
This is a preview of the recently viewed products by the user.
Once the user has seen at least one product this snippet will be visible.
Recently viewed Products